Our Veterinarians
The Massanutten Animal Clinic team of skilled veterinarians welcomes you to our practice. We are proudly serving the Harrisonburg area. At Massanutten Animal Clinic, it is our daily privilege to provide quality vet care to your cherished pet, with compassion and competence. We hope to ensure a positive impact on our patients, pet owners and the local community.
Erica Richards, Managing DVM
Dr. Richards earned her doctorate of veterinary medicine degree from Ross University in 2012. Dr. Richards is a world traveler and has experienced veterinary medicine and surgery in countries across the world. As a Virginia native, she is excited to return to the loving and caring communities it provides. Family ties in the area have afforded her the opportunity to become involved in the community, including giving a "introductory to veterinary care workshop" for the Girl Scouts.

Prior to joining Massanutten Animal Clinic, Dr. Richards was practicing small animal medicine in South Carolina where she served as President of the Greater Greenville Veterinary Medical Association. Erica's pets include her rescue dogs Jesse and Florence, and two cats Peepers and a three-legged tabby cat, Franny.
Cathy Duval, DVM
Dr. Catherine Duval graduated from the Virginia-Maryland Regional College of Veterinary Medicine in 1996. Dr. Duval is a 1983 graduate of Virginia Tech with a degree in Elementary Education. In 1989, Dr. Duval received an Associate's Degree in Veterinary Technology from Essex Community College in Maryland. While pursuing a Master's degree in Molecular Biology at Johns Hopkins University and working as a Laboratory Research Technician at the Asthma and Allergy Center, Dr. Duval applied to the VMRCVM in 1992 to fulfill a dream of being a Veterinarian, similar to her Great Grandfather, Dr. Thomas Packwood of Brown City, Michigan. Dr. Cathy Duval's veterinary interests include Dentistry, Dermatology, Preventative Medicine and Client Education.

Dr. Cathy Duval has a special interest in helping her clients and their pets as they navigate the different life stages and the challenges they may encounter.

Outside of the clinic, Dr. Cathy enjoys spending time with her daughter Geneva and her twin boys, Gordon and Alex. Dr. Duval also enjoys being outdoors riding her horse Titan, camping and kayaking on the river with friends. Dr. Cathy's furry friends include Macie a golden retriever and the not so furry Kevin the bearded dragon.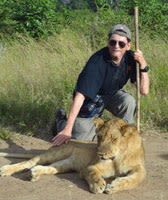 Richard Price, DVM
Dr. Price joined us at Massanutten Animal Clinic in December 2016 as our permanent relief vet.
He attended N.C. State University as an undergraduate and then the University of Georgia College Of Veterinary Medicine where he graduated in 1975 with a Doctorate Of Veterinary Medicine, Magna Cum Laude.
Dr. Price is a member of Phi Zeta, National Honor Society Of Veterinary Medicine.
Following graduation he worked with Churchland Animal Clinic in Portsmouth, VA before joining one of the first veterinary emergency clinics in the Southeast that opened in Greensboro, NC in 1977.
From 1978 through 2007 Dr. Price owned a multi-veterinarian small animal practice in Martinsville, VA.
After his move to Wintergreen, VA and less than a one year retirement, he returned to work as a relief veterinarian in the Charlottesville & Harrisonburg areas.
Dr. Price has been married to his wife Joyce for thirty years. They have one son, Richard Grant Price.
He and Joyce love to travel, with African Game Parks being a favorite as is evident in his picture.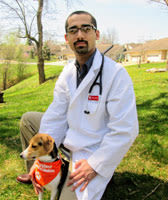 Farhan Tehrani, DVM
From an early age Dr. Farhan has enjoyed working with animals of all shapes and sizes. He has grown up with many pets from fresh water fish and turtles to various parrots, chickens, cats, dogs, and horses. His interest in veterinary medicine developed while working with his father's endurance racing horses.
Dr. Farhan's passions lie in veterinary orthopedic and soft tissue surgery with a special interest in veterinary cardiology and internal medicine. While his primary focus is practicing canine and feline medicine, Dr. Farhan enjoys working with horses, sheep, goats and pocket pets as well. Dr. Farhan joins Massanutten Animal Clinic after earning his Doctor of Veterinary Medicine from the Virginia-Maryland College of Veterinary Medicine in May 2018. He received his Bachelor of Science degree in Biology from the University of Virginia in 2012.
When Dr. Farhan isn't treating his patients he can be found riding vintage motorcycles on the beautiful backs roads of the Shenandoah Valley or working on his motorcycles in the garage. He loves learning new languages and can also speak Hindi, Urdu, Persian and Spanish.